Quality and

Accreditations
Our quality policy is built on the concepts of quality control and quality assurance. We are affiliated with multiple quality management organisations and our operations are ISO certified.
Across Unilabs, our quality programs aim to meet and surpass the requirements of relevant regulatory & accreditation organizations. This enables us to deliver a consistent, high-quality and cost-effective service to all our clients.
At Unilabs, continuous improvement and operational excellence in supporting the care of patients are core values that we hold in high regard. We are committed to benefitting from each other's best practice and as part of our Quality Control (QC) system, daily controls and the inclusion of control samples help us to secure the highest levels of quality possible.
Results are also collectively evaluated on a regular basis in order to maintain control of assay performance. As a leader in diagnostics, it is our policy to participate in proficiency testing programs (also known as external QC schemes) wherever and whenever possible.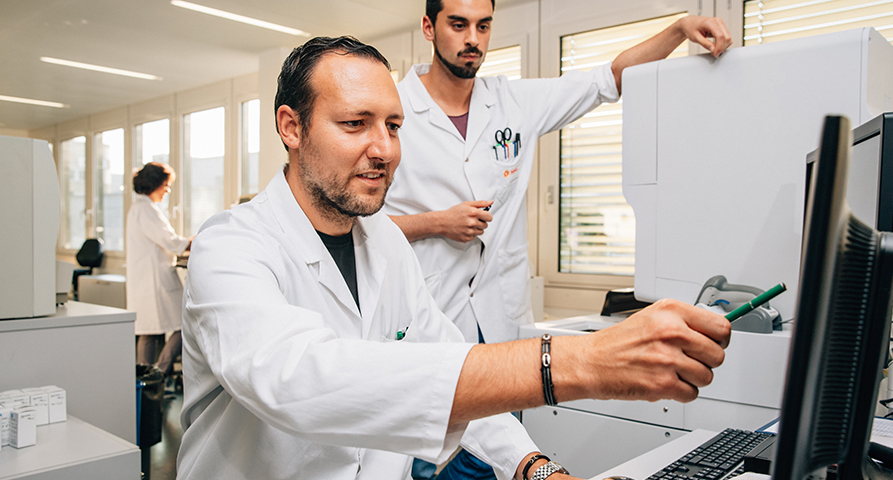 We are focused on our customers' needs and share a common goal: to provide timely and correct answers that make a difference and help give care.
Every day, more than 12,000 employees and 1,300 doctors all across Unilabs work hard to maintain industry-leading quality standards and meet the expectations of thousand customers and millions of patients.
Unilabs Group affiliations and certifications:
ISO 9000
ISO 9001
ISO 9002
ISO 14001
ISO 15189
ISO 17025
ISO 22870
BioQualité France
IPAC (Portuguese Accreditation Institute)
QUALAB Suiza
SWEDAC (Swedish Accreditation Institute)
DANAK (Danish Accreditation Institute)
GLP accredited laboratories
GCP accredited laboratories
Unilabs iPOCT was the first UK organisation to gain accreditation for point-of-care testing
Unilabs UK Quality Assurance:
It is the policy of Unilabs to perform all of its work to the highest possible level of quality and compliance with current UKAS ISO:15189 standards and applicable regulatory requirements. Unilabs is also registered with the Care Quality Commission (CQC).
Unilabs provides high quality services to industry standard as measured against the independent healthcare industry and the National Health Service in England. We are fully UKAS ISO:15189 accredited (laboratory number 9344) and participate in all relevant EQA schemes.
Unilabs Biomedical scientists are registered with the HCPC and all Medical Laboratory Assistants are supervised. Cytoscreeners are either HCPC registered or have the certificate of competence. Consultant Pathologists are appropriately qualified (MRCPath or FRCPath) and are registered with the General Medical Council, Royal College of Pathologists, and other relevant professional bodies.
View Unilabs UKAS Accreditation Scope
Quality Statement
This policy statement reinforces to both our customers and our staff the commitment that management of Unilabs has to high standards of quality, compliance and service.
Our CARE BIG mantra compliments our Mission and Motto:
Our Mission - To be at the heart and start of all effective treatment decisions
Our Motto - We provide you with answers that help give care
Our Mantra - CARE BIG
Our Culture Building Behaviours help us to CARE BIG. We identified four Culture Building Behaviours (CBB's) which can make CARE BIG a reality in every corner of our diverse business. They are:
Walk in your customers' shoes
Bring out the best in each other
Try new stuff
Make a difference
Unilabs will comply with standards set by UKAS and regulations administered by the CQC and is committed to:
Staff recruitment, training, development and retention at all levels to provide a full and effective service to our customers.
The proper procurement and maintenance of such facilities, equipment and other resources as are needed for the provision of the service.
The collection, transport and handling of all specimens in such a way as to ensure the correct performance of laboratory examinations.
The use of examination procedures that will ensure the highest achievable quality of all tests performed.
Reporting results of examinations in ways which are timely, confidential, accurate and clinically useful.
The assessment of user satisfaction, in addition to internal audit and external quality assessment, in order to produce continual quality improvement.
Annual review of the quality policy and quality management system.
Adherence to the company policy and current legislation (e.g. GDPR) on protection of personal information.